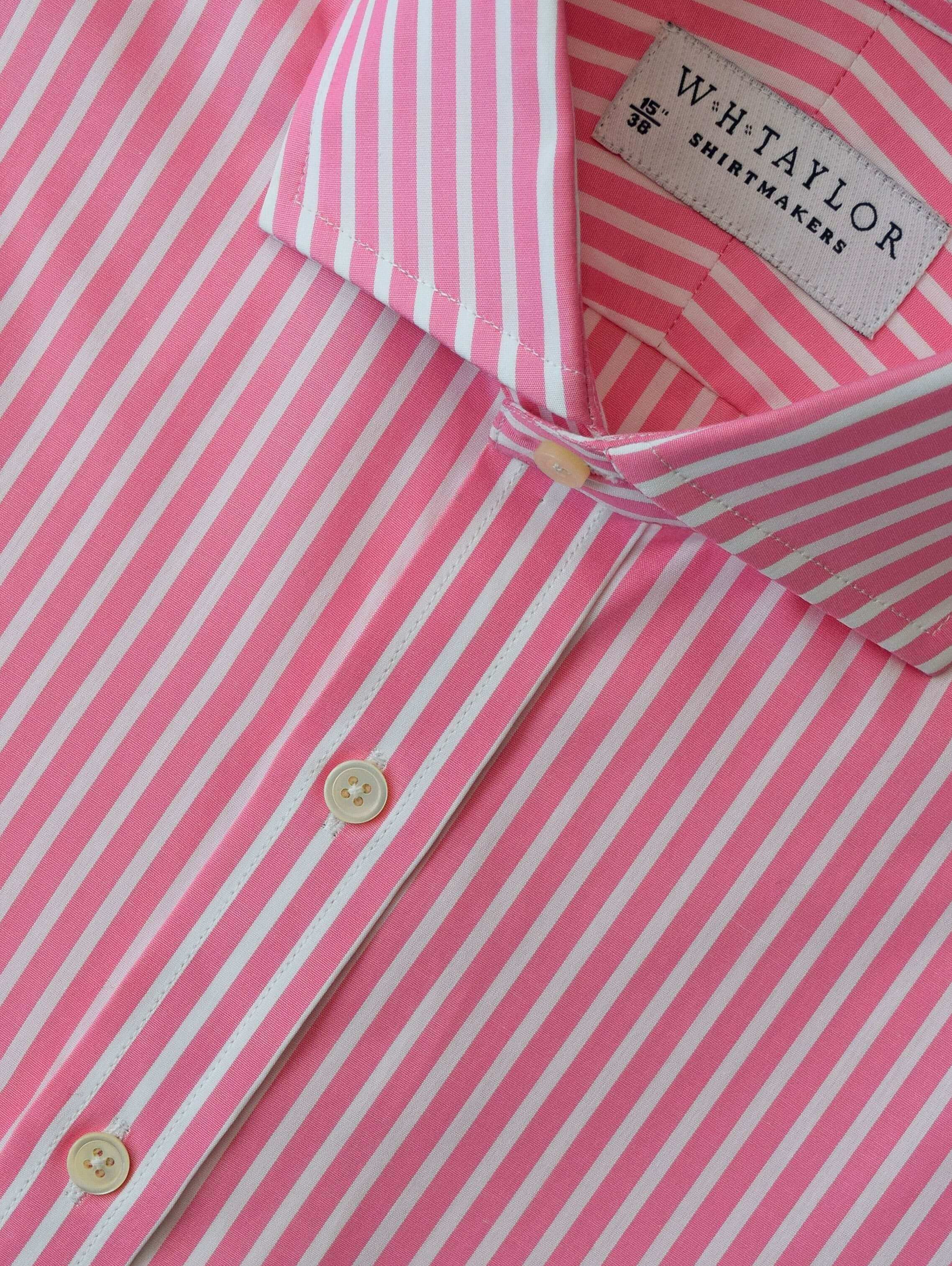 Fashion trends seem to rotate every few years and while we've had the horizontal stripe dominating the catwalks the last year or so, that's now changed to make room for the vertical stripe. It's not just shirts that vertical stripes are making an appearance on either, everything from bomber jackets to suits to scarfs and shorts are seeing the trend this year.
One of the key benefits of wearing vertical stripes is that they create a slimming effect
This is because the eye is drawn down along the stripe which creates a lengthening effect and changes the mind's perceptions. Clever stuff, right? There's a trick to getting it right though, and it's all in the width of the stripe. You want a visible stripe as anything too fine won't be strong enough for the effect, but anything too chunky will just make you look like you're wearing PJ's.
There are a few different types of vertical stripe available for shirts, so let's take a look at them in a little more detail.
Hairline stripes – a hair's width apart. These are very thin and narrow stripes that are usually placed close together in a shirt. You want a clear and bright stripe that can be visibly seen for that slimming effect if you opt for a hairline stripe.
Pinstripes – a classic favourite and perfect for wearing to the office. The pinstripe is a design made up of thin stripes spaced wide apart, indeed, the space between the stripes is always much wider than the stripes themselves. For a more bold version you can go for a Wide Pinstripe, the same affect of wider space between, just more outstanding stripes. 
Candy stripes – another classic stripe design where the stripes are spaced around 1/8 inches apart from each other, reminiscent of striped rock you might find at the seaside.  This is a great choice for breaking up a bright and vibrant colour, like green or pink.
Bengal Stripes – these are stripes of two colours where the width is the same and each colour alternates. A bold and bright design that takes its name from the Bengal tiger and is also known as tiger stripes, and Regency stripes.
Shadow stripes – this is a fun and quirky stripe design where you're wanting to add an extra splash of colour to your shirt. These stripes have darker lines immediately adjacent to them which gives them the look of a 'shadow'.
What's the best way to wear a shirt with vertical stripes?
It all comes down to the thickness of the stripe. If you're wanting something formal that can be worn with a tie in the office, then pinstripe and hairline stripe shirts are going to be the best choice for you.
If you want something bright and bold, like the candy or Bengal stripe, you'd be better off leaving the tie in the wardrobe and wearing the shirt open necked for that smart casual flair. Whatever stripe you go for make sure its in colours your comfortable wearing, suit your complexion and compliment the rest of your outfit. 
At W H Taylor we have a huge selection of striped shirts, available in a range of patterns and fabrics. So whatever your preference we will absolutely have something for you. Add to that the wide range of custom options available on every shirt purchased, from collar and cuff style to body fit, button type and more. Once selected by the customer each shirt is then hand tailored to your specific requirements, creating a truly unique bespoke shirt. 
Feb 11, 2022

Category:

News
Comment: 1