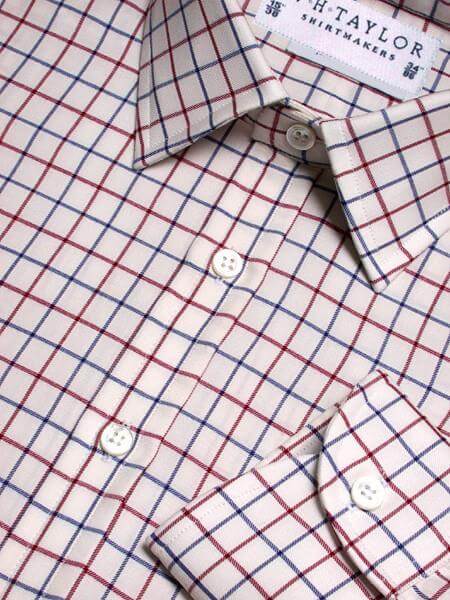 As Autumn approaches, many of us relish the opportunity to get dressed in attire to keep us warm and cosy. Feeling the soft fabrics from cotton and knitwear against our skin is one of life's simple pleasures when the air turns cool and the nights draw in. Warmer clothing need not sacrifice style however, as we can demonstrate with our bespoke shirt collection in our gorgeous brushed cotton fabrics. 
At W.H. Taylor Shirtmakers our Country Collection includes brushed cotton shirts in a variety of colour combinations of gorgeous checks and stripes. They look great worn open collar, or with a plain coloured tie. The shirts from our Country Collection can be worn casually with jeans or corduroy trousers, or dressed up with a flannel or tweed suit.
Brushed cotton is where the surface of the fabric is brushed in order to raise the fibres, which results in a more bulkier and soft fabric. This is perfect for Autumn and Winter menswear, and gives just the right thicker and cosy feeling that is much desired.

While we do like the thicker feel of the brushed cotton, do not be deterred by

thinking that this makes a bulky shirt. They are still lightweight and breathable 100% cotton, and can be comfortably worn under knitwear. They are just perfectly appropriate for the season as they are soft and warm to the touch. As with all of our hand finished made to measure shirts, you can choose which collar you want, along with many other custom options, just check out our range of choices by clicking here to see all the options. All our shirts are classic English designs constructed with expert stitching, perfect to see you through the colder months.
Aug 31, 2016

Category:

News
Comments: 3