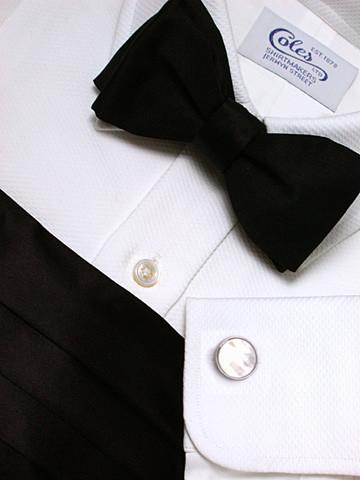 When it comes to formal wear, or more specifically Black Tie, then there are certain shirt
and collar styles which suit the dress code better than others. As shirtmakers, we are often asked what the best shirt collar is for formal occasions, and we have a couple on our website when ordering your handmade formal shirt to choose from. The Cutaway Collar or the Classic Collar, on Marcella shirts, is the standard choices for formal wear shirt collars here.
Historically, it was the Wing Collar which was worn as part of Black Tie ensemble, which was detachable, and a stiff and starched piece of the shirt. There is one faux pas however, and many people without knowledge of how to wear formal shirts as evening wear, mostly those who hire their attire, fall into this trap. Because of the stiff nature of the Wing Collar, it does not suit a softer pleated evening shirt, however this poor combination is so often worn.
The Cutaway collar looks good with a full or half Windsor tie knot, although it also looks ok without a tie too (not that you should go without a tie on formal occasions). A formal wear shirt with a cutaway collar is a modern take on a traditional design. The classic collar is an excellent choice and any sort of tie knot will sit beautifully on a shirt with a classic collar.
WH Taylor Shirtmakers offer a range of Marcella shirts for evening wear, with cutaway and classic collar styles. For a handmade to measure evening shirt for formal occasions, see our high quality range. We are happy to make bespoke evening shirts to your specifications.
Aug 08, 2016

Category:

News
Comment: 1